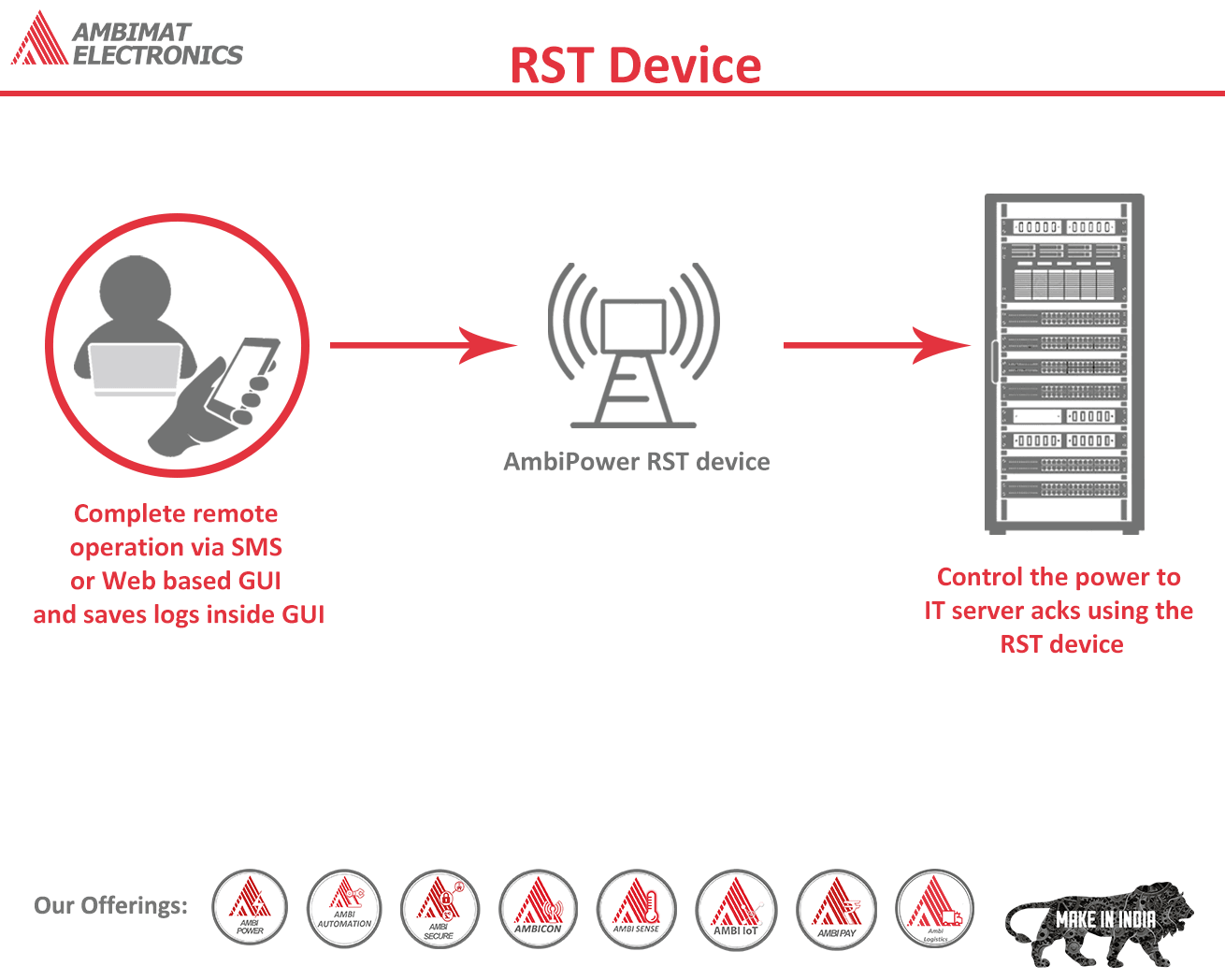 RST Device
AmbiPower's RST Device is used for monitoring of IT rack and RTU along with remote reset function with SMS/e-mail alerts. The device restart features shall be through LAN as well as dual SIM cards. The solution shall be able to capture ambient temperature of the IT rack and provide real time reports on the working condition of the routers. The solution shall be able to rest the power supply circuit of IT rack and RTU through SMS as well as LAN.
Features Hardware:
---
Software Protocol Support:
MODBUS over RS485 (Qty: 2)
IEC60870-5-104 (SCADA) over RJ45 (Qty: 1)
Interfaces:
Digital Inputs: 5
Digital Outputs: 3

Relays will be connected to 2 outputs, one for 5A rating and one for 10A rating

Analog Inputs: 2

Temperature Sensor compatible with 4-20mA can be connected
Connectivity:
LAN (RJ45)
RS485 (For energy meter or relay connectivity)
Remote Connectivity Features:
All connectivity options will offer:
Internal Antenna Connector
Dual SIM slot access
Application Platform:
Grid Router Monitoring solution should include the following features:
Device Registration & Management
SMS and e-mail configuration up to 20 users with access permissions
Alert settings and management
SMS and e-mail alerts along with timestamp for

Power-ON/OFF
Temperature threshold violation
Reset event using command through SMS and LAN.
Device health status every 30 minutes

MIS Reports
All historic alerts

All reset events along with the stakeholder details who initiated it
Data backup:
Up to 2 days in the on-board memory
Data will be purged after sending it to the SCADA system from the RST's internal memory
Power:
Single Phase 85-265VAC @ 50/60Hz universal input
Battery powered with charger for up to 2 hours with minimal functionality.
Miscellaneous Features:
LEDs (power, network connectivity)
Reset Button
Enclosure:
Enclosure rating will be IP65
Mounting shall be Back plate / DIN Rail type
IP Rating shall be minimum IP 40
Operating Temperature 0 to 600C